About Us
With this site we would like to present ourselves and our dogs. We are a
family living in Odense in Denmark. Our daughters Charlotte (1987) and
Katrine (1990) both participate in training and showing of dogs. In 2005,
2006 and 2007 Katrine became Junior Handler of the year in Denmark.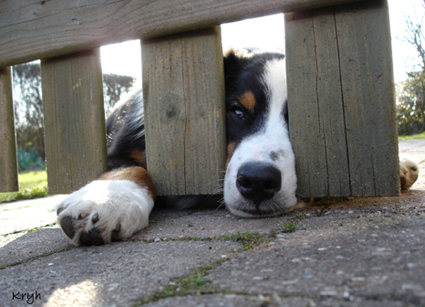 …how it all started…

In 2002 we all agreed that we were going to get a dog, -after many years of
begging from the children. At first we were very interested of the Border
Collie, but after some reading and research, we decided that it wasn't the
breed that fitted us. We searched the web and we immediately fell in
love with the Aussie's character, and handsome good looks.
When we bought Mate we got to know Margit Wachsberg (who's the owner of
Mate's father). She has shown such a big interest in Mate, and has helped
us with training, and everything that we didn't know before. We are still
in close contact with Margit, and we are very glad to know her.

In the summer of 2004 we decided to get a second dog. The dog had to be an
excellent showdog, have a great temperament, and of course it had to be an
Aussie. We found our second dream dog I Germany at Kennel Moon Rise. We
all agreed the first time we were there, that it was there we would find
the dog! Twister was born 10.10.04. We are Angela Kleinhans and her family
extremely grateful for Twister and all the good times we have shared with
them.

In 2007 we were so lucky to become owners together with A. Kleinhans of
Moon Rise Special Offer. Another dog from Angela Kleinhans, who has found
his way into our hearts.

All our dogs are very versatile, and mainly family dogs. They are active
in obedience, know tricks and they have been used at sheep. An aussie is a very
versatile dog with many possibilities, we have discovered that only our
imagination limits what aussies can learn.